"I want to make a special appeal to the youth of our nation. The youth are the biggest component of our society. They are the largest group who are mobile. They have the energy and I appeal to them to use this energy to fight this disease."
Cabinet Secretary for Health, Government of Kenya, Mutahi Kagwe
Nairobi, 7 April 2020 – Youth-led organizations in Kenya's capital have taken up the call for action on COVID-19 made by the country's Cabinet Secretary for Health during a nationwide address earlier this month by setting up handwashing facilities in Mathare and Kibera informal settlements. UN-Habitat is partnering with these youth organizations by providing financial, technical and logistical support.
"UN-Habitat strongly supports the youth-led action taking place across Kenya now," said the UN-Habitat Executive Director, Maimunah Mohd Sharif. "Working together with the UN Country Team and the Government of Kenya, we have established a UN-Habitat COVID-19 Action Plan for Kenya, a response which has led to the immediate activation of key urban programmes such as our Participatory Slum Upgrading Programme (PSUP) and our One Stop Youth Resource Centre."
An initial 10 handwashing stations are being launched in Kibera and Mathare. These facilities will be overseen by youth attendants from the community who will assist residents with handwashing. Residents in these communities usually get their water from community water points.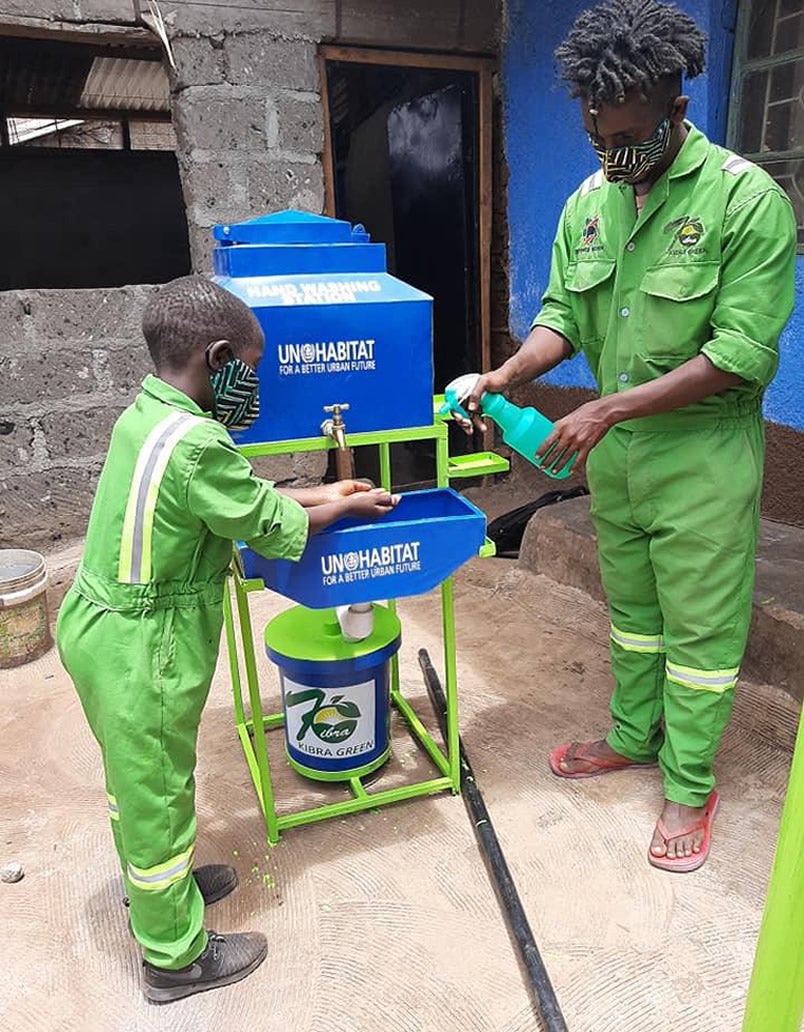 UN-Habitat
The World Health Organization has stated that one of the most important contributions people can make to slowing down the transmission of COVID-19 and keeping people and their communities safe is to wash their hands properly several times a day.
"In Kibera there has been an overwhelming demand for places for people to wash their hands," stated Linus Sijenyi, UN-Habitat Youth Officer who is a resident of Kibera. "Youth-led groups have reached out to us and asked how they can get involved and we have been training those groups who will oversee the facilities. They know how to take steps to prevent transmission of the virus and protect those helping at the facilities, as well how to support proper handwashing techniques."
UN-Habitat has provided the funding for the coordination of the stations and the provision of water cisterns, soap, protective items for the attendants, education material and other key items. UN-Habitat has brought together other partners such as the Chandaria Foundation which provided support including the wash basins. The initiative will also support local enterprises such as women groups who are making liquid soap to supply the new washing facilities.